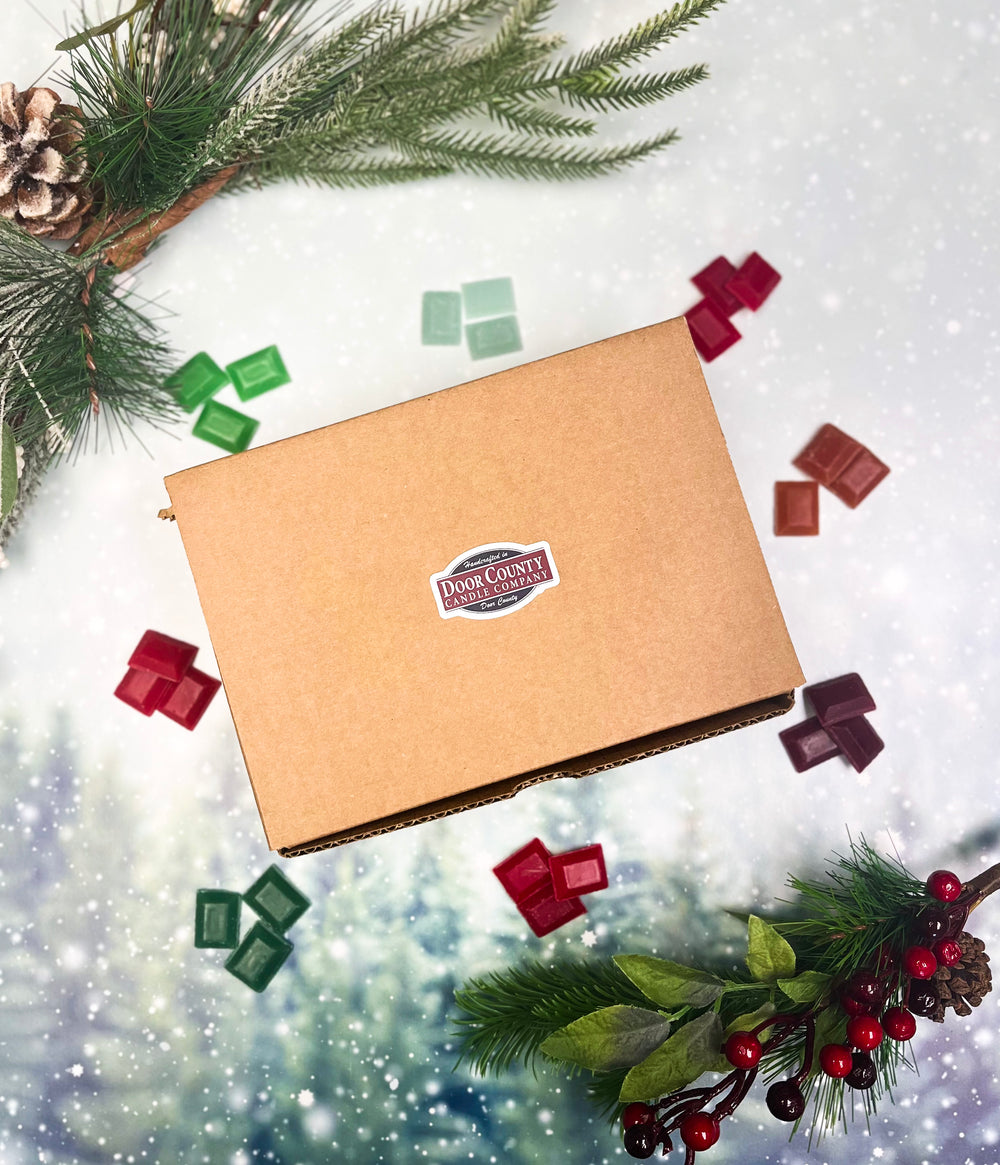 Candles Creating ChangeTM
Holiday Collection Sampler
Sale price

$15

Regular price
Introducing our new Holiday Collection Sampler, a festive ensemble of our eight best-selling holiday scents. Each fragrance has been carefully selected to capture the essence and joy of the holiday season, from the comforting warmth of freshly baked gingerbread to the crisp freshness of winter firs. This collection offers an aromatic journey that will make your holidays truly memorable.


What to expect in the Holiday Collection Sampler:


Variety: Eight samples of our top-selling and brand-new holiday scents. You'll receive one mini bag of each scent, containing three of our unique wax chips. These scents include Peppermint, Bayberry, Gingerbread, Door County Christmas, Fraser Fir, Balsam Fir, Cranberry Chutney and Deck the Halls.
Aromatic Exploration: Our Holiday Collection Sampler is an aromatic exploration that immerses you in the festive spirit, making every moment feel like a joyous holiday celebration.
Discover Your Favorites: As you indulge in the different scents, you'll have the opportunity to identify the ones that resonate most with you. Our sampler is the perfect tool to assist you in finding your next favorite (or favorites) among our holiday collection.
High-Quality Wax Melts: We take pride in using only the finest ingredients to create our wax melts. Each melt is carefully crafted to release a rich, long-lasting fragrance that will fill your space with the scents of season.
Ideal for Gifting: Our Holiday Collection Sampler set is the perfect gift, offering a delightful journey through festive aromas that will bring joy and warmth to anyone's holiday season.
PS: Each sampler. has a special coupon for your next order before the end of the year! Consider it a special treat from your friends at Door County Candle. 
-The amount of wax chips you use depends on the size of your room and the size of your warmer. For pluggable warmers, we recommend using 3-5 chips. For larger warmers, we recommend using 5-8 chips. These are simply recommendations. We always encourage customers to experiment and see what is to their liking!

-Our typical guidance is that chips should have adequate fragrance for three (8) hour sessions.
-There are a few ways you can clean your warmer out…
1.) Put the top of your warmer (if it's removable) in the freezer for a bit and pop it out.
2.) Wipe the wax out of the warmer.
3.) Pour the wax into a wax safe place. Reminder, the wax is hot!

-You can reuse wax melts! The fun and convenient thing about wax melts is that you can use them one day, pop them out and then try another scent!
When you purchase our wax melts you will receive a bag with wax chips. The candle warmer and other items pictured are not included.
Great gift idea
I gave this to my sister for her birthday and one for Christmas to my friend. When they opened, they were so surprised and said it smelled so good when just unwrapping. They can't wait to start having fun with it. Awesome selections and happy to support.
You might also like…
Other fine products