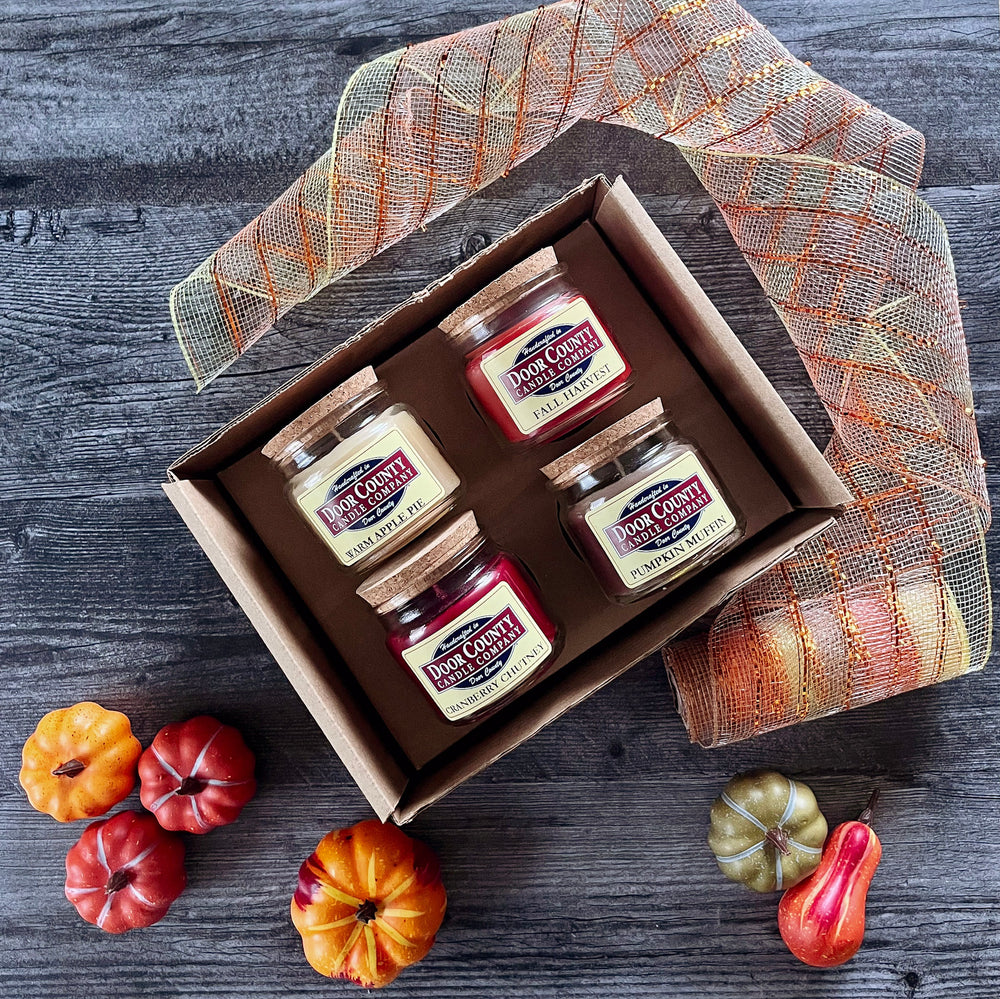 Support A Cause
Thanksgiving 5oz Gift Set
Sale price

$55

Regular price
Light up your holiday season with Door County Candle Company's Thanksgiving Box.

This exclusive offering features four handcrafted scents - Warm Apple Pie, Pumpkin Muffin, Cranberry Chutney, and Fall Harvest. Each candle is meticulously hand-poured in beautiful Door County, Wisconsin, using the highest quality ingredients to fill your home with warm, delightful aromas.
But this box offers more than just cozy fragrances. With each purchase, you become an agent of change through our Candles Creating Change™ initiative. A portion of every box sold will be donated to Feeding America, helping to combat food insecurity during the holiday season. Experience the joy of giving twice - once to yourself or a loved one, and once to those in need.
Indulge in the spirit of Thanksgiving, one scent at a time. Shop now and make a difference.
This gift set does not qualify for free shipping.
5oz Apothecary Jar: 27 hours
16oz Apothecary Jar: 75 hours
26oz Apothecary Jar: 120 hours
-When burning the first time, allow the candle to burn for at least three hours to avoid tunneling
-Trim the wick to 1/4" length before every burn
-Do not burn the candle for longer than 4 hours at a time
-Keep away from sunlight and drafts
-Keep the candle on a flat, fire-resistant surface
-Never leave a burning candle unattended
I love the holiday scents! What a great idea, it's the perfect size and variety for getting in the holiday spirit! I can't wait to get my Christmas box!
Thanksgiving gift
I. I bought a set of these to give my niece as a thank you for hosting Thanksgiving dinner. I have done it for years but due to my husband being ill and I need heart surgery right after the holidays I I could not do it this year. The candles are perfect and candles are one of her favorite things. Of course I bought a set for myself too!I have bought quite a few of your candles and never been dissppointed
You might also like…
Other fine products