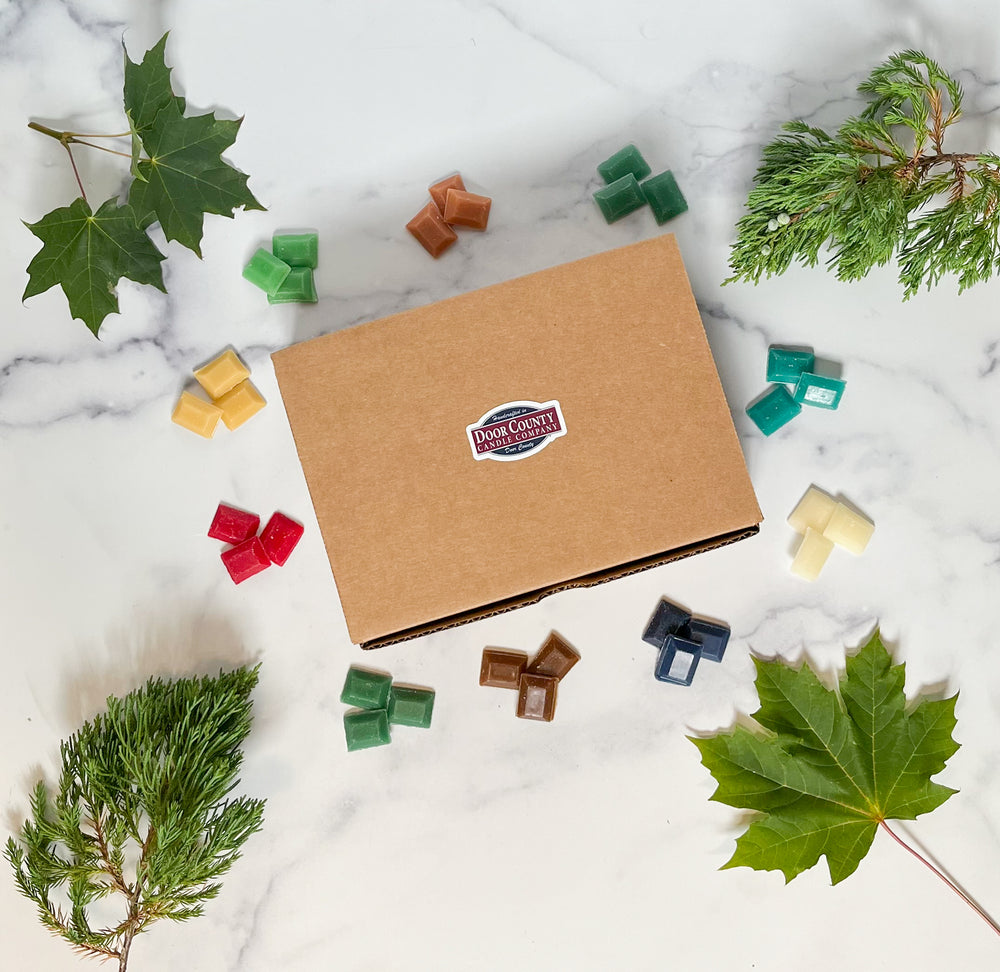 Natural & Alluring Sampler
Sale price

$20

Regular price
Welcome to the Natural & Alluring Sampler! Our Natural & Alluring Collection is where nature's finest elements meet the sophisticated allure of cologne and the rich warmth of bourbon. This sampler features all the scents from our Natural & Alluring collection. Each sampler includes one mini bag of each fragrance with three of our-hand poured wax chips.
What to expect in the Natural & Alluring Sampler: 
Variety: 10 samples of our Natural & Alluring scents. You'll receive one mini bag of each scent, containing three of our unique wax chips. These scents include Balsam Fir, Blue Spruce, Bourbon, Cedar Woods, Deck the Halls, Fraser Fir, Midnight Magic, Northwoods, Shimmering Sands and Vanilla Lavender.
Aromatic Exploration: Immerse yourself in natural and alluring aromas. Whether you choose to smell them directly or use them in your warmer, the sampler allows you to savor each fragrance at your own pace.
 
Discover Your Favorites: As you indulge in the different scents, you'll have the opportunity to identify the ones that resonate most with you. Our sampler is the perfect tool to assist you in finding your next favorite (or favorites) among our Natural & Alluring collection.
 
High-Quality Wax Melts: We take pride in using only the finest ingredients to create our wax melts. Each melt is carefully crafted to release a rich, long-lasting fragrance. 
-The amount of wax chips you use depends on the size of your room and the size of your warmer. For pluggable warmers, we recommend using 3-5 chips. For larger warmers, we recommend using 5-8 chips. These are simply recommendations. We always encourage customers to experiment and see what is to their liking!

-Our typical guidance is that chips should have adequate fragrance for three (8) hour sessions.
-There are a few ways you can clean your warmer out…
1.) Put the top of your warmer (if it's removable) in the freezer for a bit and pop it out.
2.) Wipe the wax out of the warmer.
3.) Pour the wax into a wax safe place. Reminder, the wax is hot!

-You can reuse wax melts! The fun and convenient thing about wax melts is that you can use them one day, pop them out and then try another scent!
You might also like…
Other fine products